"Introducing the sweaters under $100 perfect for this fall/winter, for you to keep it warm and fun, in your budget"
Once a Greek philosopher Aristotle said, "To appreciate the beauty of a snowflake it is necessary to stand out in the cold." Well, Mr. Aristotle didn't tell us what I must wear to keep myself warm and cozy. Well, this is my favorite time of the year as I bid Goodbye to shorts and tees and welcome sweaters and leggings. Sweater in this fall/winter is my favorite, and of course, I can mimic Joey's iconic dialogue, "listen, is it obvious I am wearing six sweaters? (Hahahaha). Well, the number of sweaters does not matter when you read this blog with hands wrapped around the hot chocolate mug.
During the fall/winter, sweaters are the most important. Moreover who doesn't want a great wardrobe collections of cozy yet fancy sweaters. Sweaters are equally important, considering the extreme climatic changes.
Here I am with a warming and vivid blog telling you about the 10 Sweaters under $100 you need this fall/winter
To start with.. Nothing can go wrong with this
Fuschia pink sweater. Be it a casual day out or a lengthy business meeting; this sweater gives you a sure shot comfort wrapped in warmth. The long sleeves climbing down the wrist and the multiple options one could think of while pairing these sweaters under $100 with the choice of your bottoms makes this a perfect wear for this fall/winter.
Are you getting ready for a brunch with your bunch?
Do you feel uncomfortable stuffing yourself with clothes all the time you go out this fall/winter? The Oversized dolman sleeves in pink can make your outdoor plans look cozy. Upgrade your collection, alongside gathering some compliments from your friends. The V-neck and the deep curves in the front make it a sweater of your choice when paired with jeans and a funky hat.
I am sure we all have great pair of shoes to complement our personalities;
Not many sweaters to complement our favorite pair of loafers. Have a look at this beautiful Cashmere crew in camel going great with those classy white loafers. This crew neck sweater can give you major goals this fall/winter. The Grade-A, cashmere from Inner Mongolia, the light weight and above all the soft texture of the sweater, makes this a regular wardrobe wear. Above the perennial look when paired with the right bottoms.
We all often feel the need for some change and what better than a great piece of sweater.
Besides, sweaters always adds on to your personality. What if we can wear those comfy shawls to work or a formal afternoon party? You must take a look at this Banana Republic Aire wrap sweater in white. The shawl collar with a fixed front wrap enhances your look without compromising your comfort. In addition, just grab some bottoms and style it with this sweater, making it the perfect combo for this fall/winter.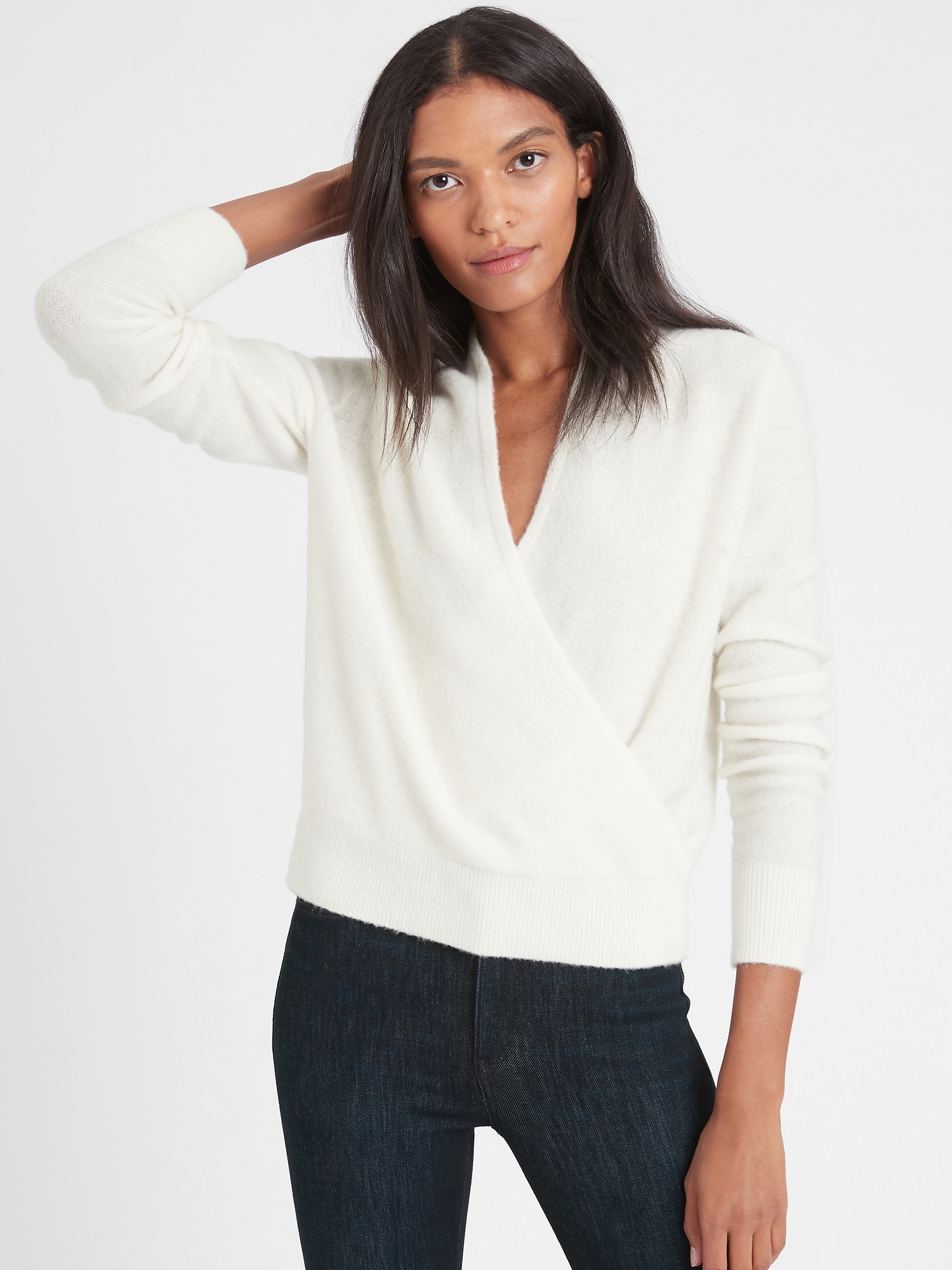 This fall/winter is all about sweaters with a twist.
If you are someone who has had enough of all those puffed winter wears. Try some well-knitted sweaters under $100, Batwing sweater in white with one of the best cashmere knit. The boat neck with bat Dolman sleeves and a feel of a pullover give you the right warmth this fall/winter. Try some denim alongside this beautiful piece. At the end, you can either go casual or formal as this sweater will never let you down.
Say cheese with
A Drop shoulder sweater in maroon is a must in any wardrobe. You can choose any bottoms based on the occasion or mood and tag along this extremely comfortable sweater, knitted for all day long activities. Above all, you can pack few elegant jewelries with this sweater to create the timeless look.
If you are a person of low key colors and blended cotton-yarn regular wears,
Then grabbing some complementing sweaters can change the deal . Why not choose this Oversized sweater in soft pink? One will simply love the rib knit crew neck and, soft-brushed bouclé cotton-blend yarn. This sweater should be on your to-buy list this fall/winter. Also, you can combine it with some ankle length jeans or some straight fit trousers. Besides, this sweater is perfect for a long planned day because of its comfortable stretch.
Pull out those cowboy boots and skinny jeans as it is time for you to set the style statement this fall/winter.
Wear Batwings with a twist in this Off shoulder batwing in maroon. Alternatively, pair it with your tights and drop those shoulders. This sweater is all about hiding a lot and showing a bit. In other words, showing less is showing more and this winter is all keeping it in style by keeping it warm.
Worried to find the right piece for the date night?
This Heart pink sweater will bring back the romance this fall/winter. The bold heart-shape print and the soft essence of the sweater will add on to the heat of the date night. Just pair it with your favorite blue or white tights/leggings and leave the rest to the night. Nevertheless, what matters is a great company and some comfort.
Tuck those extended hems or leave it loose.
This Cotton Boat neck sweater is a pure example of the three-dimensional whole garment knitting method. Alongside, those extended Balloon sleeves and hems. This fall/winter is the perfect time to explore such a rare collection of the sweater. The old school style and the much-awaited material make this piece look elegant.
Lastly,
I would end the blog with a famous quote from the boulevard of Sex and the city, wherein Carrie Bradshaw proudly mentions, "she loves her money right in front of her eyes and what better than a beaming closet full of distinguished designs."
With this in mind, get your hands on the perfect winter buddy. The clock is ticking. Either you catch a cold or knit faster. But wait, the blog you just read brings you the line of 10 Sweaters under $100 you need this fall/winter to keep yourself warm yet cool. I have chosen my favorites for this fall and, now the choice is yours.
Tell us your favorite from the list. Cause winter is coming 🙂
Shop the sweaters below

All set with the choice of clothes, now it's time to look for the right place to flaunt this collection. Click here if you are looking to dine outside after the lockdown and enjoy your time with your loves ones.